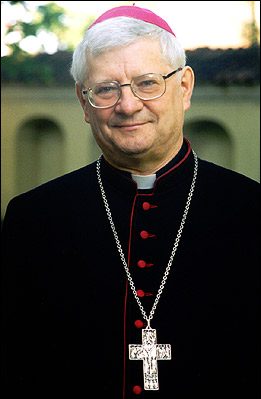 Jėzuitų namai, Rotušės a. 8,
LT-44280 Kaunas
E-mail: ksavero@gmail.com
Born 11 October 1944
Ordained 6 August 1982
Consecrated 21 June 1997
Bishop emeritus of Telšiai since 18 September 2017

Jonas Boruta was born on October 11, 1944 in Kaunas. In 1962, after having graduated the secondary school in Kaunas he tried to enter the seminary, but was not accepted because of the pressure of Soviet authorities. He entered the Faculty of Physics and Mathematics in Vilnius University. J. Boruta graduated University in 1970 and worked in the Institute of Physics within the Lithuanian Academy of Science. In 1982 J. Boruta accomplished his dissertation, however he was not given the certificate testifying the acquired doctorate degree of physics and mathematics.
In 1975 J. Boruta began studies of theology in the underground seminary. In 1981 he entered the Society of Jesus (it was illegal according to Soviet law) starting novitiate period. On August 5, 1982, J. Boruta was secretly ordained priest. Soviet authorities did not allow him to exercise his priestly ministry. Since 1983 Fr. J. Boruta was editor of the underground publication, The Chronicle of the Catholic Church in Lithuania. 1983–1989 Fr. Boruta was one of the main organizers and lecturers of the secret theology courses for religious sisters of Lithuanian congregations.
Since 1989 he was member of Catechetical Committee of Vilnius Archdiocese, taking care of correspondence course of catechetics in Vilnius archdiocese. In 1989–1998 Fr. Boruta SJ was provincial of Lithuanian Jesuit province. 1997–2006 he was President of Lithuanian Catholic Academy of Science.
1997 Fr. Jonas Boruta SJ was consecrated bishop and appointed auxiliary of the archbishop of Vilnius. 1997–2002 Msgr. J. Boruta was general secretary of Lithuanian Bishops' Conference(LBC). On January 5, 2002 Bishop Jonas Boruta SJ was appointed the ordinary bishop of Telšiai diocese.
2002–2011 Bishop Jonas Boruta was president of the Commission for Liturgy of LBC. 2002-2014 president of the Council for Ecumenical Relations of LBC.
p> On September 18, 2017 Pope Francis accepted the resignation of bishop Jonas Boruta SJ. He is succeeded by H.E. Rev. Msgr. Kęstutis Kėvalas, coadjutor of the same diocese.