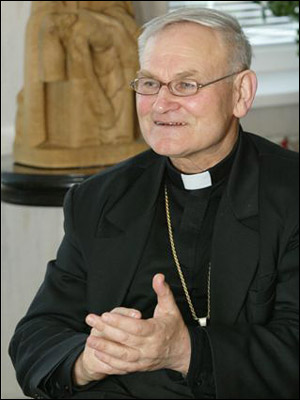 Upytės g. 3
LT-35248 Panevėžys
Tel.: (+370-45) 43 51 56, (370-45) 43 29 30
Fax (+370-45) 50 04 07
E-mail jkauneckas@centras.lt

Born 6 June 1938
Ordained 22 May 1977
Consecrated 5 August 2000
Bishop emeritus of Panevėžys since 10 August 2013

Jonas Kauneckas was born on June 6, 1938, in the village Trajoniškis (district of Pasvalys). He attended school in Suntautai, Krinčinas and graduated the secondary school in Pasvalys in 1954. He studied in the college of land reclamation in Panevėžys in 1954–1958. 1958–1959 J. Kauneckas worked technician in the Center of machines of land reclamation in Tauragė. 1959–1963, he was manager in the office of construction and land reclamation in Alytus. He was senior engineer in the office of land draining office 1963–1972. While working in mentioned enterprises, 1964–1968, J. Kauneckas simultaneously studied German language in the distance language learning institute based in Moscow. After having graduated the distance learning course he studied Lithuanian language and literature in Vilnius University.
Jonas Kauneckas repeatedly tried to enter the Kaunas Interdiocesan Seminary beginning from 1959. Each year he renewed his application for studies in the seminary, but was refused the possibility because of intervention of Soviet authorities. Finally he was admitted to the seminary. Jonas Kauneckas was ordained priest on May 22, 1977. 1977–1983 he was vicar in Telšiai and pastor in the parishes of Skaudvilė and Adakavas. 1978–1984 Rev. Kauneckas was member of The Catholic Committee of Defense of Believers' Rights, the brave initiative of five Catholic priests who protested against the lack of religious freedom in Soviet Lithuania.
In 1990 Rev. Kauneckas was appointed vice-rector of the newly reestablished Seminary of Telšiai. In 1993 he was appointed spiritual director of the Seminary. Since 1990 he was member of the Council of priests of the diocese of Telšiai, and since 1994 member of the College of consultors of the same diocese. In 1993 Rev. Jonas Kauneckas was given the rank of a prelate. He also was spiritual director of Catholic youth organization Ateitis since 1994. Msgr. Jonas Kauneckas was nominated bishop on May 13, 2000. He was appointed auxiliary bishop of the diocese of Telšiai. Msgr. Jonas Kauneckas was consecrated bishop on August 5, 2000 in Telšiai. On January 2002 Bishop Jonas Kauneckas was appointed ordinary bishop of Panevėžys.
On June 6, 2013 Pope Francis accepted the resignation of bishop Jonas Kauneckas and appointed Fr. Lionginas Virbalas SJ bishop of Panevėžys.
In 2011-2017 he was president of the Iustitia et Pax committee.