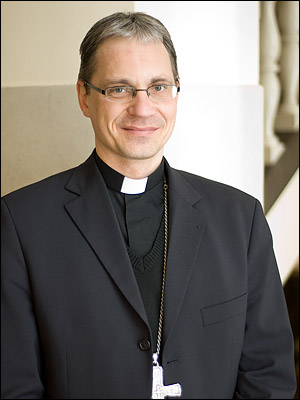 Šventaragio g. 4
LT-01122 Vilnius
Tel. (+370-5) 262 70 98
E-mail augziliaras@vilnensis.lt

Born 1 August 1966
Ordained 31 May 1992
Consecrated 4 March 2010
Auxiliary bishop of Vilnius since 5 February 2010

Born on August 1, 1966 in Griškabūdis, in the family of pious catholics. First four years of his life A. Poniškaitis spent in the village of Vyšpiniai in the parish of Žvirgždaičiai (district of Šakiai). He then moved to Vilkaviškis, where he attended a secondary school Nr. 2 (now renamed in Aušra gymnasium). In 1987, after a military service in the Soviet army, A. Poniškaitis began his studies at the Interdiocesan seminary in Kaunas. On May 31, 1992 he was ordained priest by bishop Juozas Žemaitis MIC and appointed parochial vicar of the Holy Angels Custodians parish in Alytus. Fr. A. Poniškaitis then went to Rome and continued his studies at the Pontifical Gregorian university, acquiring accademic degrees of licentiate (1997) and doctorate (2001) in sacred theology.
Back in Lithuania, he worked as a parish priest of St. Casimir parish of Alytus. In 2001-2004 he was the Spiritual director of Blessed Jurgis Matulaitis seminary in Marijampolė. 2001-2009 Fr. A. Poniškaitis also taught fundamental theology at Vytautas the Great university, Seminary of Marijampolė and College of Marijampolė. In 2003 Fr. A. Poniškaitis was appointed notary of the diocesan curia of Vilkaviškis, in 2004 – vicar general of the Bishop of Vilkaviškis. In 2005 he was granted a title of chaplain of His Holiness (monsignor). Msgr. A. Poniškaitis was a member of the Council of priests and College of consultors of the diocese of Vilkaviškis, chaplain of Faith and light community of Marijampolė, representative of the diocese in Bažnyčios žinios newsletter, spiritual director of the board of Marijampolė region of Ateitininkai Federation.
On February 5, 2010 Pope Benedict XVI appointed msgr. A. Poniškaitis auxiliary of the archdiocese of Vilnius, assigning him a titular diocese of Sinna.
On March 4, 2010 he was consecrated in the archcathedral of Vilnius. The very same day archbishop of Vilnius card. A. J. Bačkis appointed His Excellence bishop A. Poniškaitis vicar general of the archbishop of Vilnius.
2011-2017 bishop Arūnas Poniškaitis was president of the Council of youth pastoral care of Lithuanian Bishops' Conference. On November 20, 2017 he was elected for the presidency of the Council for Family of Lithuanian Bishops' Conference.