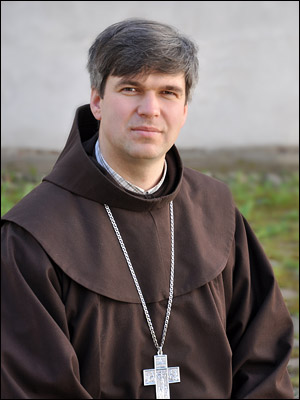 Upytės g. 3
LT-35248 Panevėžys
Tel. (+370-45) 43 51 56
Fax (+370-45) 50 04 07
E-mail kurija@paneveziovyskupija.lt

Born 8 June 1973
Ordained 15 July 2000
Consecrated 14 April 2012
Bishop of Panevėžys since 20 May 2016

Born on June 8, 1973 in Neringa (diocese of Telšiai). After the graduation of secondary school in Nida, entered a convent of the Order of Friars minor in Kretinga. 1992-1993 he spent his novitiate in Kennebunkport, ME (USA). On June 4, 1993 he made his first Franciscan vows.
1993-1995 br. L. Vodopjanovas OFM studied at the seminary in Kaunas and in the Faculty of Catholic theology of the University of Vytautas the Great. 1995-2000 he also studied at Studio teologico «s. Bernardino» of the Pontifical university Antonianum in Verona, Italy. On May 26, 2000 he graduated from this institute with a degree of bachelor in sacred theology.
On July 15, 2000 br. L. Vodopjanovas OFM was ordained and on August 15, 1996 he has made his perpetual vows, choosing Linas as his monastic name. He was incardinated into the Lithuanian St. Casimir province of Friars minor.
In 2000 br. L. Vodopjanovas OFM was appointed parochial vicar of the parish of Kretinga. 2001-2004 he was the Guardian of the Annunciation to Our Lady convent in Kretinga, 2003-2004 and 2010-2012– parish priest of Kretinga, 2004-2007 – the Guardian of the convent of the Hill of Crosses near Šiauliai, 2007-2010 – Master of novices, 2007-2013 – the Vice-minister of the Lithuanian St. Casimir province of Friars minor.
On February 11, 2012 Pope Benedict XVI appointed br. Linas Vodopjanovas OFM auxiliary bishop of the diocese of Telšiai and granted him a title of the bishop of Quiza. He was consecrated on April 14, 2012 in the church of Annunciation to Our Lady of Kretinga and appointed the vicar general of the bishop of Telšiai.
On October 28, 2014 His Excellence Msgr. L. Vodopjanovas OFM was elected the chairman of the Commission for Religious communities of the Lithuanian Bishops' Conference. Since 2015 in Lithuanian Bishops' Conference he is also responsible for environmental issues.
On May 20, 2016 he was appointed the bishop of Panevėžys.